ESHG Young Geneticists Committee (ESHG-Y)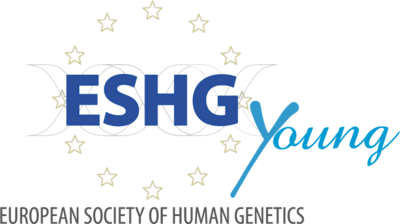 Our Mission:
ESHG-Y Committee mission is to represent and support the young European geneticists by developing strategies and programs that aim for a better education. Coming generations are an essential force to meaningful and long-lasting changes in the development of the Human Genetic field worldwide and in Europe in particular.
Objectives:
Scientific events
To contribute to the organization of the scientific program of the ESHG Conference (Scientific Programme Committee).
Organize different scientific events relevant to all young human geneticists.
Equal access to opportunities
To facilitate access to scientific and educational information in human genetics to all young human geneticists.
To design strategies to facilitate access to international training opportunities.
To be committed to carry out all the ESHG-Y activities without discrimination on basis of ethnicity, religion, gender, gender expression, age, national origin (ancestry), disability, marital status, sexual orientation, or military status, in any of its activities or operations.
ESHG-Y Network
To increase the representation of young human geneticists from Europe in different scientific events and human genetic projects.
To build a growing community and to facilitate communication between young European human geneticists.
To manage a network of volunteers acting as representatives of different European countries and are from the ESHG-Y community who will support the executive activities of ESHG-Y.
To initiate and to implement new projects that will enhance the performance of young human geneticists and sustain the young generation to be heard, understood, and empowered.
To develop collaborations with other human and medical genetic societies from all over the world.
To promote interdisciplinary collaborations.
Young Leadership
To support tomorrow's young leaders in the European human genetics field that will bring a positive influence and will motivate young geneticists to get more involved in ESHG-Y activities.
To support young geneticist leaders to become forces of change in their own national scientific community aiming at increasing the level of development of the human genetic field in all European countries.
To participate in close collaboration with the ESHG in the elaboration of strategies and policies that will ensure the equal and harmonious development of the human genetic field in Europe.
Current ESHG-Y Committee Members:
| | |
| --- | --- |
| Name | Term ends in June |
| Mridul Johari (Australia) Chair | 2025 |
| Delia Sabau (Romania) Vice Chair | 2025 |
| Ana Raquel Silva (Portugal) Vice Chair | 2025 |
| Ana Rita Matos (Portugal) Secretary | 2027 |
| Silvia Kalantari (Italy) Secretary | 2027 |
| Rhys M Dore (United Kingdom) Spokesperson | 2027 |
| Magda Mroczek (Poland/Switzerland) Spokesperson | 2024 |
| Elena Avram (Romania) Consultant | 2023 |
| Juliana Miranda Cerqueira (Finland) Consultant | 2024 |
| Francesca Tonini (United Kingdom) Associate Member | 2023 |
More information:
Contact us:
Follow us on: